Blogs
---
This week is the annual CES (Consumer Electronics Show) in Las Vegas, which means there is a tremendous amount of tech related announcements coming out of the show. As often is the case, there is some crossover between tech and sci-fi. The Panasonic booth had a special "most impressive" (as they termed it) announcement of (pre-orders for) the Star Wars films coming to Blu-ray. I had heard there would be a TARDIS speaker system at the show, but didn't have much details on it. Engadget has come to the rescue (since I am not at the show myself) with this report of hands-on prototype of the new Speakal TARDIS speaker dock and Bluetooth speaker and IR remote control system.
I am assuming it will work with the iPhone as well as the iPod. The photos show an iPhone in the dock (a white at that). If the speakers are shielded enough to prevent GSM radio noise interference from the iPhone, it should work.
Wow - what a cool series of portraits, and they can be yours! An amazing group including Paul McGann, Sheridan Smith, John Simm, Catherine Tate, Richard E. Grant, Mark Gatiss, Noel Clark, Benedict Cumberbatch, Tim Pigott-Smith, Sylvester McCoy, Michelle Ryan and David Morrissey:
http://www.31thirtyone.com/portraits/
This is all for charity too. Win-win (see below:).
There are a couple new Doctor Who: Podshock episodes on their way (coming soon), in the meantime the latest episode of The Sonic Newsdriver will feed your hunger for Doctor Who related news.
Sonic Newsdriver (06 January 2011) - Doctor Who News -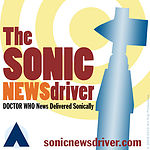 The Sonic Newsdriver 20110106
Selected Doctor Who related news delivered sonically.
For Earth-date: Thursday, the 6th of Jan. 2011

In this episode: Besotted, DVR Alert, YouTube Goes Classic, Ambassadors of Restoration, The End of Time Begot A Christmas Carol, Ashes to Ashes - Sherlock to Sherlock - Doctor to Doctor, Torching the US and the UK, Where's the TARDIS, and more!
This Week In Doctor Who – January 6, 2011
Section A
By Benjamin F Elliott
Welcome to the weekly guide to Doctor Who and spinoffs. Sarah Jane, K9, and the PBS Doctor Who broadcasts are in Section B. Torchwood schedules are in Torchwood This Week.
Happy New Year! Welcome to 2011 – the year Doctor Who does a split series! Well, the first year – if it works I'm sure they'll want to make it a regular feature.
I hate relaying this kind of stuff reported in The Sun from an unnamed "source."
To quote the source in The Sun, "They (David Tennant and Georgia Moffett) are besotted with each other and can't wait to tie the knot." It doesn't exactly say they are engaged though. I would file it under rumour for now until there's some sort of official confirmation.
If it is true, we wish them all the best. Georiga Moffett had just turned 26 this past Christmas (Happy Birthday, Georgia Moffett). We interviewed her last year at Gallifrey 21 in Doctor Who: Podshock 187.
The following is from the article that ran in The Sun:
As reported in Wired magazine the restoration of Ambassadors of Death has gotten a boost due to a new editing computer.
"Their method is a refined version of that trialled on the 2009 Planet of the Daleks re-release; it is now being deployed on a seven-part 1970 Jon Pertwee adventure, The Ambassadors of Death. "It seemed almost recordings, they didn't filter off the colour carrier [encoded as a 'chroma dot' pattern in each frame], which for the last few decades has been nothing more than an annoyance." Team member Richard Russell used the signal to reverse-engineer raw colour pictures that could be retouched frame by frame. "It's very, very labour intensive -- several hundred man hours' work every episode," says Steve Roberts. Luckily, a new "quadrant editor" is helping them to produce better source material upfront, so they hope to deliver the Ambassadors episodes to the BBC within weeks."
BBC Worldwide have announced a Classic DVD Doctor Who Channel, to come today.
BBC Worldwide have announced a Classic DVD Doctor Who Channel, to come today.
The Idea is that snippets and trailers are to be released on a regular basis, the official line is this:
"BBC Worldwide, the commercial arm of the BBC, will be launching a Classic Doctor Who channel on YouTube on 4th January.
The new channel, featuring a mixture of classic clips and exclusive previews from forthcoming Doctor Who DVD releases, will appeal to existing fans and give new viewers an opportunity to sample some classic Doctor Who. The channel will complement the Classic Doctor Who Twitter account @classicdw run by 2entertain.
Once again, The Late Late Show with Craig Ferguson (on CBS in the US) will be having a Doctor Who related guest this Thursday (6th January 2011). This time it is Alex Kingston (River Song). Although she is not listed (at the time of this writing) in the upcoming shows for free tickets (they are actually recording two shows on Thursday according to their website, one at 3pm with actor Gary Sinise and one at 4:15pm with actress Mila Kunis - the latter being sold out), it was announced that "River Song" would be on Thursday's show via Craig Ferguson's Twitter feed. In addition, the Doctor Who musical opening number ("cold open") which could not be aired last November has finally been cleared for this show.
I wouldn't be too concerned about her absence on the website, as with the last time when Matt Smith was scheduled to appear on the show (16th November 2010), he was not showing up on the site for the longest time. Perhaps this show was pre-recorded on another day? @CraigyFerg tweeted the following tweet on Monday:
Finally, the HUGE hit of 1978 is available on iTunes!
Album: Gallifrey And Beyond (Remastered) - Mankind
Two songs from the above album:
Dr Who? (Club) - Gallifrey And Beyond (Remastered)
Dr Who? (Radio) - Gallifrey And Beyond (Remastered)
If you want to see what people looked like when I was... well, a mere infant, check this out: