Blogs
---
David Walliams announced on BBC Radio 2's Breakfast Show that he is to have a part in Doctor Who in the upcoming series. All that he's willing to reveal is that he's an alien and shooting starts soon. David is better known for his character comedies "Little Britain" and most recently "Come Fly with Me" which was being shot at Stansted Airport in September as I was visiting the UK. In which he stars with comedy partner Mat Lucas. David is also know to Who fans from sketches he did with Mark Gattis for Comic Relief (UK) in 1999, which ended up as extras in "The Beginnings" boxed set and is well worth a watch. The YouTube clip is below for your perusal.
Today saw the release of the soundtracks collection to lost episodes Volume 2.
Still within the Hartnell Era, this set comprises of "The Masacre of St Bartholomew's Eve" "The Celestial Toy maker" "The Savages" and "The Daleks Master Plan" three of the story's contained within, are considered by many to be black and white era who at it's best. And so the boxed set worth having in every Who fans collection. Not forgetting that the Daleks master plan is the longest Doctor Who story ever, taking place in twelve parts. All of these Story's are from the original series (season) three, which in it's self is largely missing.
Once again I am chiming in here to give everyone a heads up that Doctor Who: Podshock 236 is on its way. In the meantime, if you haven't heard it yet, the latest Hitchhiker's Guide to British Sci-Fi is out. Dave and Graeme who helped with DWP 235, also co-host in this episode.
Today is the birthday of David Jason (voice of Danger Mouse and recently recognized in UK's National Television Awards). What better way to celebrate his birthday, than listening to this episode of HHGTBSF. See the links below:
Danger Mouse Discussed and News on Torchwood, Doctor Who, Outcast, Red Dwarf and More in this Hitchhiker's Guide to British Sci-Fi -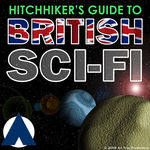 Hitchhiker's Guide to British Sci-Fi - Episode 10
Running Time: 1:29:20
News on Red Dwarf, Torchwood, Doctor Who, Blake's 7, Outcast, Hitchhiker's Guide to the Galaxy, National Television Awards, and more, plus a discussion on Danger Mouse, and more!
Hosted by Louis Trapani @LouisTrapani, Dave Cooper @daveac and Greame Sheridan @The2ndDoctor .
What does the title of this entry mean? It's simply a fushion of what about to speak about here:
First off, both Dave Cooper @daveac and Graeme Sheridan @The2ndDoctor joined in as co-hosts for this week's recording of Doctor Who: Podshock (235) and Hitchhiker's Guide to British Sci-Fi. Expect both episodes on your feeds soon.
Secondly, you can hear me in the most recent episode of The Chronic Rift podcast in which I speak about the Gallifreyan Embassy. See my post about it below on arttrap.com:
The BBC has announced that Hugh Bonnerville has been cast as a pirate captain for Series 6 in the spring.
Hugh says, "When I was a boy THAT music had me peeking out from behind the sofa every Saturday night... although the pirate's fears and demons are different to those of the young lad who watched through his fingers, they are no less terrifying; this new adventure is not for the faint-hearted."
It's a busy time with Gallifrey 22 now less than a month away. As with past years, we will have a special episode of Doctor Who: Podshock previewing the annual premier North American Doctor Who convention coming soon. Coming sooner than that will be Doctor Who: Podshock 235.
In the meantime, the latest episode of The Sonic Newsdriver has been released bringing you up to date on selected Doctor Who related news.
Sonic Newsdriver (25 January 2011) - Doctor Who News -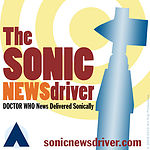 The Sonic Newsdriver 20110125
Selected Doctor Who related news delivered sonically.
For Earth-date: Tuesday, the 25th of Jan. 2011

In this episode: Four to Doomsday, That's Right - I'm Bad, Stop Spending So Much on Doctor Who, New World is a Miracle Day, Torchcast, Tennant and Tate Reunited, and more!

The Sonic Newsdriver 20110125 (MP3 file)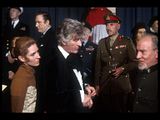 Through an Interview with DWM The releases for 2011 came to the fore. And now 2entertain have listed them. The list is subject to change but should be as is.
Planet of the Spiders
Mannequin Mania which comprises of: Spearhead from Space and terror of the Autons.
Frontios
Earthstory which comprises of: The Awakening and The Gunfighters.
As painful as it is to mention the next one,....... Paradise Towers.
Revisitations 3 which comprises of: Tomb of the Cybermen, The Three Doctors and The Robots of Death.
The Solar System, which comprises of: Ambassadors of Death and The Sunmakers
And finally on the list, the much awaited Day of the Daleks-Special Edition.