Blogs
---
Fans of Family Guy will appreciate this second episode of Doctor Stew. Now with more Doctors…
Created by Cecinid (Kevin Karstens) @doctorstew
As previously reported, the Doctor Who iOS game, Doctor Who: The Mazes of Time debuted in the Apple App Store last December. There are two versions, one is for the iPhone and iPod touch, and an HD version for the iPad. Unfortunately, it is not a universal app, so you can either get the iPhone/iPod touch version and upscale it for the iPad, or alternatively get the HD version specifically for the iPad.
The prices in the US App store had been $3.99 and $4.99 respectively, but are NOW ONLY 99¢ each. So if you have been holding off purchasing this game for the iOS platform, now is the time (that includes myself). At this time, I don't know if this price reduction only pertains to the US iTunes App Store or if it is worldwide. Also I do not know if this is a permanent price reduction or a limited time sale.
Here is the link to the iPhone/iPod touch version: Doctor Who: The Mazes of Time - BBC Worldwide
Here is the link to the iPad HD version: Doctor Who: The Mazes of Time HD - BBC Worldwide
Late last night Big Finish felt confident enough to announce that Tom Baker would be following Colin Baker into Big Finish Audio, as the Doctor. For months it has been a sort of conformation, with Big Finish it's self and more appropriately Nick Briggs himself not wanting to say anything, as dealing in the past had only been a source of spot by Tom.
The details are as follows, "Tom Baker will be playing the Fourth Doctor in a number of audio adventures for Big Finish, to be released from the beginning of 2012. Storylines and scripts are already at an advanced stage, and we plan to start recording early in the summer."
Colin Baker the 6th Doctor has now joined the ranks of twitter, under the pseudonym of @SawbonesHex.
Colin describes himself as an actor, columnist, writer, husband, father, Wycombe Wanderers fan, grumpy old man', also has an official website at colinbakeronline.com. Also he writes regular columns for the Bucks Free Press.
http://twitter.com/SawbonesHex
(Image Bucks Free Press)
Keeping with the theme of Gallifrey One's Catch 22: Islands of Mystery, our Post Gallifrey One Party which was our Doctor Who: Podshock and Gallifreyan Embassy seasonal meet up and party on Second Life taking place the following Sunday (27 February 2011) after Gallifrey One had a tiki feel to it. Victor Mornington @vic1st and his fellow owners of the land of Katrina (The Doctor Who Experience, which has recently changed its name the Doctor Who: Exposition) out did themselves once again flooding the area, making it a huge pool of water complete with inflatables to cruise on for the stage area of our party. The stage and dance floor were on a giant deck.
Traditionally our meet ups start with TARDIS tours across various Doctor Who themed areas of Second Life led by Victor. This time we did things a bit different. Instead we had a Podshock TARIDS Mod Exposition taking place in that time period. I had the pleasure and honour of being one of the judges for it along with our own DWP Correspondent Ian Bisset @The6thDoctor and the owner of Hands of Omega (one of the leading TARDIS simulator providers in Second Life), Sen Pixie. Together we explored various TARDIS console mods along with the rest of their interior and chose the best within three categories.
It's been more than a couple weeks now since word first traveled across Twitter of the sad news that we lost Nicholas Courtney. For many we us, we were in disbelief and shock. If you heard the latest episodes of Doctor Who: Podshock or The Sonic Newsdriver, you will know that I was literally on my flight back from attending Gallifrey One 2011 in Los Angeles when word first came to me. After such a 'Doctor Who high' that was Gallifrey One, to have this news come on its heels... well, it's never a good time for news like this, but we can be grateful it was after, not during the convention. I want to thank Correspondent Graeme Sheridan @The2ndDoctor for posting the news to our site (see: R.I.P. The Brigadier, Nicholas Courtney Dies at Age 81). I had meant to follow it up, posting some of my thoughts, but I found it difficult to do. I was even dreading having to record the next episode of The Sonic Newsdriver only because I would have to report it. Though now that has come to pass.
It's offical not only does Series 6 start on the 23rd of April (Easter Saturday) in the UK, but also on BBC America in the US a few hours later. That's right hours not days or weeks hours.
It just waits to bee seen how the rest of the World gets it's Doctor Who S6 fix, but this also means that the Episodes should be on the US iTunes the very next day, for those of you who don't have BBC America.
"Spoilers" if you want to have a look at the promo video's then follow th link Below.
We have a bunch of new Doctor Who: Podshock episodes on the way which will be coming to you soon, including our live show recorded at Gallifrey One 2011. In the meanwhile, catch up on Doctor Who related news delivered sonically with the latest episode of The Sonic Newsdriver!
Sonic Newsdriver (07 March 2011) - Doctor Who News -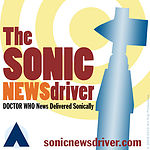 The Sonic Newsdriver 20110307
Selected Doctor Who related news delivered sonically.
For Earth-date: Monday, the 7th of Mar. 2011
In this episode: Five Rounds Rapid in Memory of Nicholas Courtney, James Corden is Back, Who are you gonna call?, Massive Man - Massive, iPlayer for less than $10 a month, and more!
Chris Hardwick presented his report on Gallifrey one last night on the Craig Ferguson Show. Tara Wheeler @TARDIS_Tara and her TARDIS make up the end of the report. Plus a special appearance from the Head of Pertwee.
It is with great sadness and a very heavy heart, that I report the passing of Nicholas Courtney, best known for his role as the Brigadier.
He was first seen in Doctor Who as Bret Vyon a security agent in the 12 part "The Daleks Master Plan" Later taking up the Role of Colonel Lethbridge Stewart in "The Web of Fear" and then comming back one year later as Brigadier Lethbridge Stewart in the Invasion.